As lockdown rules and restrictions ease in most states and we enter into a new normal way of life, most of us are now able to go back into the office or visit our favorite restaurant, whilst using a mask and following social distance guidelines. The months of isolation and lockdown are slowly but surely coming to an end. Unfortunately, this is not the case for most of the older population who are still under threat of being infected by COVID-19. Older adults who may have a weaker immune system or suffer from underlying health conditions have had the highest COVID-19 risk and mortality rate.
According to the Centers for Disease Control and Prevention, 8 out of 10 COVID-19-related deaths reported in the United States have been among adults aged 65 years and older. As seen on the graph below, the older you get, the higher the risk of hospitalization caused by COVID-19.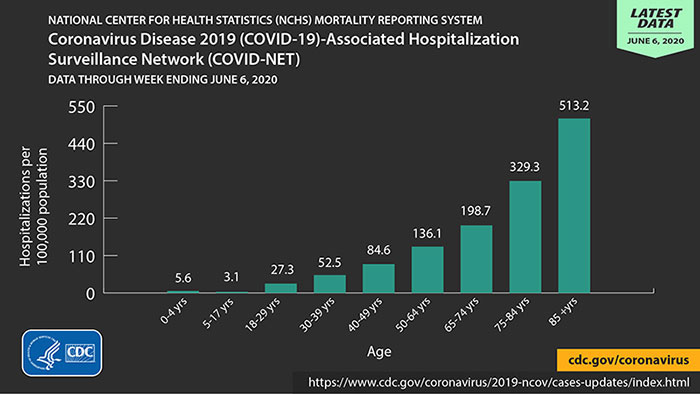 In most cases, this is why elders are still being advised to remain in isolation and shelter in place whilst the rest of us re-enter society. This pandemic has had psychological impacts on most people due to the increased levels of anxiety, panic, adjustment and chronic stress. The elderly, who are aware that they are the most vulnerable group, continue to face the chronic stress, loneliness, social isolation, fear and anxiety caused by the uncertainty of when this will all come to an end and the continuing threat that this virus holds for them.
It's important for family members and caregivers to understand how they can help improve their loved ones' mental state during this time. Here are some great resources and tips we have put together in hopes that it will be most beneficial to you and your loved one.
Activities to help elder's well-being during extended isolation:
Physical activity such as stretching or yoga.
Cognitive activities such as crossword puzzles, wordsearch, art.
Connecting with loved ones online via Facebook, email and facetime.
Reading books or magazines.
Relaxation activities including meditation, breathing exercises.
In-room or in-home gardening.
Going on a virtual trip.
How to help manage the stress and uncertainty:
Educate your loved one, without scaring, on the facts and updates about the COVID-19 pandemic, by sharing simple facts so that they will be less likely to believe false rumors or constantly watch the tv for updates and therefore, will have less stress.
Share positive stories with them about other elders and high risk individuals who have contracted and successfully beat Covid-19.
Communicate all instructions on precautionary activities in a clear, calm and respectful way.
Make sure you are staying in contact with your loved one and encourage other family members to reach out.
Help your loved one navigate and use devices to help stay in touch easily.
Additional Resources:
National Mental Health Services Administration Disaster Distress Helpline: 1-800-985-5990. Call or Text.
The Institute on Aging Friendship Line: 1-800-971-0016. If you need a friendly voice or support, The Institute on Aging Friendship Line is available 24/7 year-round in English, Spanish, Mandarin and Cantonese.

By continuing to offer support and communication to your loved one, you can help them significantly improve their mental health during these uncertain times. It is important for us all to stand together and take care of those around us. If you would like to learn more on how Babette Home Care is taking action measures to help our elder community during these hard times read more here.